Channels 2015 is a 10-day festival in Melbourne and online from 18-27 September 2015.
Australia's only video art biennial, Channels 2015 presented over 29 events showcasing works by over 70 artists from Australia and overseas. Channels 2015 partnered with Australian Centre for the Moving Image (ACMI), Foundation for Art and Creative Technology (FACT) in UK, Centre for Contemporary Photography, Grey Garden Projects, Liquid Architecture, Screen Space, The University of Melbourne and Schoolhouse Studios.

From exhibitions, screenings, talks, performances, and workshops, Channels continues to challenge the historical context of video and its future progressions in an increasingly tech-saturated world. Acknowledging the multiplicity of the video medium, Channels 2015 presented a flagship cinema screening at ACMI and multiple exhibitions, talks, workshops, and other screenings including presentation of two major works by UK-based Australian artist Sam Smith: a video performance at ACMI and an exhibition of Smith's new work Slow Fragmentation at Screen Space. Channels presented multiple group exhibitions including a survey of Australian artist-run-initiatives at Screen Space, 'Epoch of the Near and Far' exhibition curated by emerging curator Amelia Winata at Grey Gardens Projects and a public engagement program 'Videophilia' curated by Project QUAD, along Flinders Lane, engaging with local businesses including Zambesi, Alpha 60, LIFEwithBIRD, The Journal, INCU and Crumpler.

As the Artistic Director, Channels 2015 embodied Nikki's artistic vision of a critical, engaging and collaborative festival.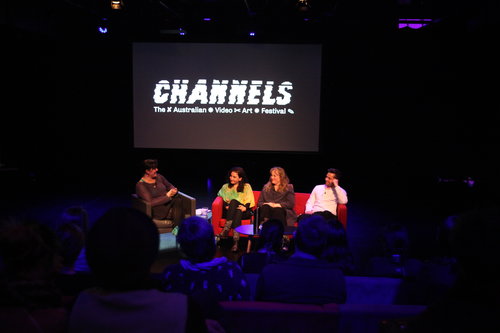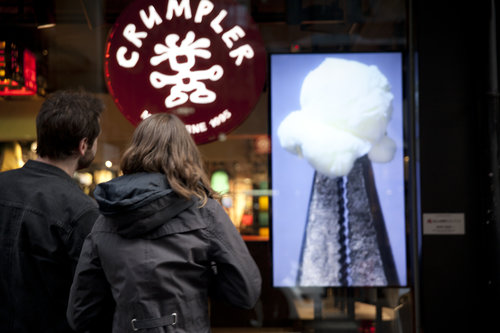 Images (top to bottom) —
1,13 Sam Smith, NOTES (2015) performance at ACMI, photo credit Jody Haines
2 Sam Smith, Slow Fragmentation (2015) installation view at Screen Space, Melbourne, Channels Festival 2015, 4K video installation, 5:24 minutes, Chipboard, European Redwood, perspex, Courtesy the artist and 3+1 Arte Contemporânea, Lisbon, Portugal3, 5 Two Party State, Co-presented by Liquid Architecture and Channels, Schoolhouse Studios, photo credit Keelan O'Hehir
4 Video ARI, curated by Screen Space, photo courtesy of Screen Space 6, 12 Videophilia: A walking exhibition, curated by Project QUAD, Local businesses along Flinders Lane, photo credit Scott Heinrich
7 In the Epoch of the Near and Far, Curated by Amelia Winata, Grey Gardens Projects, photo credit Scott Heinrich
8,10 Provocation Series: Brunch Club at Grey Gardens Projects, photo credit Scott Heinrich
9 Two Party State, Curated by Anita Spooner, Schoolhouse Studios, photo credit Keelan O'Hehir
11 Provocation Series: Rewind/Project — The Future of Video Art at Australian Centre for Moving Image (ACMI)
14 Night Meets Day: A Discussion of Memory, MPavilion, photo credit Rachel McLaren